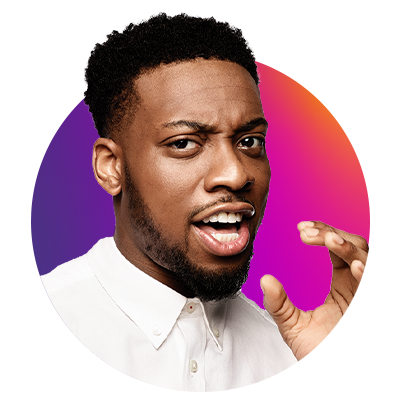 Lutalo Muhammad
British Taekwondo Olympic Medallist
Great Britain's Lutalo Muhammad suffered an agonising last-second defeat in the men's Taekwondo final at the Olympic Games Rio 2016 – he took silver, but his dream of gold still shines bright. Lutalo is still chasing his dream of gold at the Paris 2024 Olympic Games.
Lutalo Muhammad was born on 3 June 1991 in Walthamstow, London. By the age of three, he was already practicing the notoriously fast-kicking Korean martial art – Taekwondo. One of his earliest memories is lining up with his brothers in front of their father, his first coach, learning the moves together.
Lutalo's first competition came at the tender age of seven; he was so nervous that he threw up as he approached the ring. His father quickly took him aside and, at that moment, taught him an invaluable life lesson. Those nerves are nothing to shy away from; that nervous energy can be channelled and directed into the fight. So Lutalo took a deep breath, stepped onto the mats, and won.
"From that moment, Taekwondo became my life."
Watching the Taekwondo Final on TV with his dad at the Olympic Games Sydney 2000 ignited Lutalo's dream to become an Olympic Games Champion.
"My dad leaned over to me and said, 'You could do this one day. You could go to the Olympic Games and win'."
At age nine, he even drew his dream on a piece of paper titled, 'Olympic champion 2016." So when the Olympic Games Rio 2016 came around, Lutalo believed his moment had arrived. This was his destiny. He was convinced he would bring home the gold for Great Britain.
He fought like a champion through every round. Then, with just seconds to go in the final fight and two points ahead, his opponent released a surprise reverse turning kick to the head, scoring four points and snatching the gold dream from Lutalo's grasp. The world watched as he was consumed by heartbreak and lost in floods of tears.
"Yes, I was devastated I didn't win, but I could still be proud of myself and what I'd achieved."
Since his agonising last-second defeat Lutalo has suffered a host of injuries, but true battlers will never stay down for long, no matter what. He's fought his way back to fitness and has since won gold in the French Open heavyweight final in Paris, 2019. He will never stop fighting in pursuit of his childhood dream.
"Because I now know that every second counts, and I'm never wasting another second again. That Olympic gold will be mine."
Lutalo's sporting achievements include:
1 x Olympic Games Silver Rio 2016
1 x Olympic Games Bronze London 2012
1 x Commonwealth Games Gold Glasgow 2014
1 x European Champion Taekwondo Manchester 2012
2 x World Grand Prix Winner Mexico City 2012, Manchester 2013
Speaker Sessions
10:45 - 11:15 BST | 11:45 - 12:15 CET
Keynote Address with Lutalo Muhammad, British Taekwondo Olympic Medallist
Lutalo Muhammad will draw on his Olympic career to discuss turning adversity into opportunity, following your passion, and capitalising on your skills and strengths in the new world of work. His experiences overcoming obstacles will inspire you to see the challenges of the last year as a chance for reinvention and refocus.