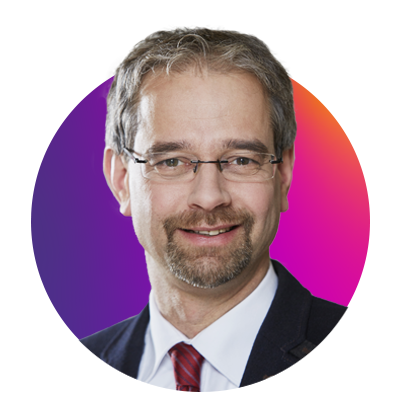 Dr. Christoph Kahlenberg
Manager, Randstad Akademie Germany
Herr Kahlenberg studierte Politikwissenschaft, Neuere Geschichte und Philosophie an den Universitäten Gießen und Bonn. 1996 promovierte er zu einem medienwissenschaftlichen Thema. Seine berufliche Laufbahn begann er im Vertrieb bei einem großen deutschen Versicherungskonzern, bevor er 1998 zu Randstad kam. Dort war er über zehn Jahre als Niederlassungsleiter in Trier, Wittlich und Koblenz tätig.
2008 wechselte er zur Randstad Akademie. Seitdem verantwortet er den Bereich Fort- und Weiterbildung für die bei Randstad beschäftigten Zeitarbeitnehmer:innen und ist zuständig für die Organisation von Arbeitsmarktprojekten, die Randstad in Kooperation mit der öffentlichen Arbeitsverwaltung, Kundenunternehmen und Bildungsträgern bundesweit durchführt. Zudem ist Herr Kahlenberg Ansprechpartner bei Randstad zu allen Themen rund um den Arbeitsmarkt und in diesem Kontext auch als Referent bei Veranstaltungen tätig.
–
Dr. Kahlenberg studied Political Science, Recent History, and Philosophy at the Universities of Gießen and Bonn. In 1996 he got his Ph.D. in a media science-related topic. He began his professional career as a salesperson for a big German insurance company before he then started at Randstad in 1998, where he worked as a Branch Manager in Trier, Wittlich, and Koblenz for over ten years. In 2008 he moved to the Randstad Akademie. Since then, Dr. Kahlenberg is in charge of the reskilling and training efforts for the temp workers who work for Randstad. In addition, he is in charge of the organisation of labour market projects, in which Randstads cooperates with the public administration for labour-related topics, customer companies, and educational institutions at a federal level in Germany. Dr. Kahlenberg is the main go-to person at Randstad for all topics related to the labour market and also represents the business as a speaker in this context at several events.
Speaker Sessions
1:20 - 2:00 BST | 2:20 - 3:00 CET
Wie Sie den Fachkrä ftemangel innerhalb der Recruiting-Branche mit Reskilling gekonnt meistern | How to Best Tackle the Skill Shortage and Reskilling in the German Staffing Industry
In dieser Podiumsdiskussion lernen Sie von erfahrenen Führungskrä ften aus der Personaldienstleistung wie diese Ihre Unternehmen erfolgreich durch den aktuellen Fachkrä ftemangel und den Umgang mit Qualifikationsdefiziten bei der Kandidatensuche auf dem deutschsprachigen Markt führen. In dieser Session erfahren Sie mehr über unterschiedliche Mö glichkeiten, um die besten Kandidaten für sich zu gewinnen und Talente langfristig an Ihr Unternehmen zu binden.
In this panel session, you will learn how experienced executives from the recruiting industry are leading their companies through the current skill and talent shortage when recruiting candidates in German-speaking markets. Find out how to make sure you can win the best candidates for your business and which reskilling measures make sense when working with skilled candidates over several years.