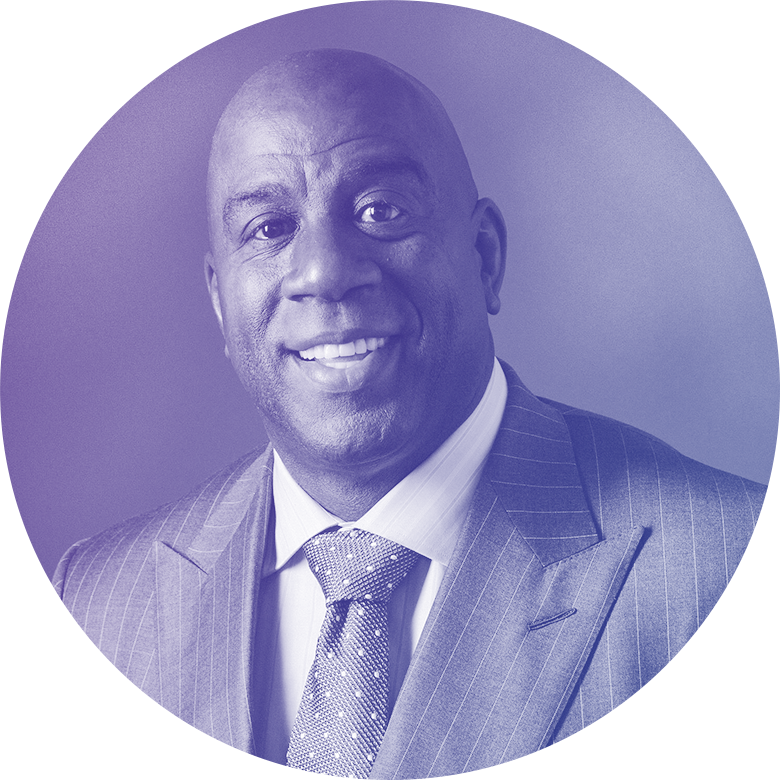 Earvin "Magic" Johnson
Chairman and CEO, Magic Johnson Enterprises (MJE)
Having left the basketball court for the boardroom, Earvin "Magic" Johnson has successfully parlayed his skills and tenacity from the court into the business world as Chairman and CEO of Magic Johnson Enterprises (MJE). MJE provides high-quality products and services that focus primarily on ethnically diverse and underserved urban communities.
Still a commanding presence in popular culture, Johnson made history in 2012 when he became co-owner of MLB's Los Angeles Dodgers. He also co-owns the Los Angeles Sparks of the WNBA, Major League Soccer's Los Angeles Football Club, and eSports franchise Team Liquid. He continues to expand his influence through his many businesses that include: EquiTrust Life Insurance Company, ASPiRE, an African-American television network and SodexoMAGIC, a food service and facilities management company.
The Lansing native is constantly evolving and remaining relevant in a dynamic digital age by broadening his scope into infrastructure and technology. Through a newly formed fund, Johnson is investing millions of dollars on infrastructure improvement in the United States. He is also one of the leading investors in a number of minority-owned technology companies that include Uncharted Power, a company that uses their renewable kinetic energy solutions to generate clean, consistent, and cost-efficient power for communities, facilities, and the Internet of Things; ShotTracker, a company that makes wearable technology for basketball players that helps track player and ball movement; Jopwell, a diversity and hiring recruiting platform; Walker & Co Brands, a company that develops health and beauty products for people of color; and MiTú, the Latino-fueled media brand and digital network that connects thousands of Latin content creators with viewers around the world.
Speaker Sessions
1:15 PM - 2:00 PM | Thursday, June 13th
Earvin "Magic" Johnson Fireside Chat
Grand Ballroom, 2nd Floor
Earvin "Magic" Johnson, legendary NBA Hall-of-Famer and the greatest point guard of all time according to ESPN.com, has become one of the most influential businessmen in the world. He has applied the skills and tenacity he cultivated on the basketball court to the business world as chairman and CEO of Magic Johnson Enterprises (MJE). Under his leadership, MJE serves as a catalyst for fostering community and economic empowerment by providing access to high-quality entertainment, products, and services that answer the demands of multicultural communities. Over the course of 30 years, he has developed MJE into a conglomerate that is comprised of multiple business entities and partnerships. In this fireside chat, Magic will showcase his entrepreneurial story, highlighting the personal and professional lessons that he has learned throughout his life. Sponsored by CareerBuilder.